"Hey, I attracted a lot of paying customers through content marketing. You must write a blog and tons of traffic will come to your website."
I often heard this statement from my startup friends when I started my second startup StagePhod.com
Result, I installed wordpress and started writing something on my blog. But writing 'something' never worked in my favor.
Current Digital marketing scenario
I was/ am not a professional writer and did not have money to hire a content marketing consultant or writer. I was not getting any traffic on my blog so I stopped writing and shifted to other customer acquisition channels.
Bootstrapped startups rely on free marketing channels like SEO, Social Media, Email, and word of mouth.  
Unfortunately, traditional SEO is almost dead, you will get penalized by Google if you try black hat SEO tricks.
Facebook has almost killed its organic reach (do not know how facebook's 'audience optimization feature' will come out). If you have 10,000 fans on facebook page and share any status, you will only reach to 1000 people until you pay to facebook. Surprising, you have to pay to reach out to your own facebook page audience.
Most of people are on Gmail but email marketing becomes less effective after the introduction of promotion tab within gmail. People are almost non responsive to cold emails and cold calls.
Every fucking day, I was trying hard to get attention from online audience but I was failing consistently. I tried almost everything in organic marketing but nothing worked.
It was live or die moment for me. I decided to focus on content marketing again and stopped doing all the bullshit.
Content marketing is a slow process but it paid me well in the long run. I survived and became a profitable startup within a year.  
My experiment with content marketing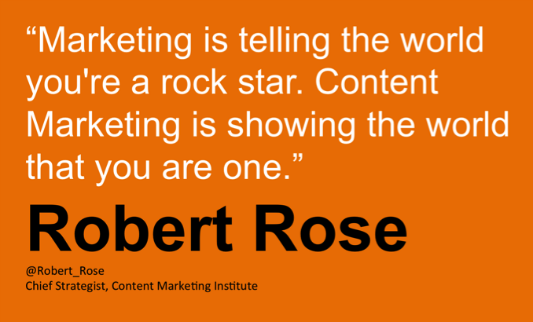 As we are in video creation space, the obvious topic which comes to mind immediately is to write about
Why video marketing is important for your startup

How videos can be used in sales, hiring, training, branding and product marketing

What is the cost of low budget and high budget video projects

From where you can find video makers or alternate ways to make your videos yourself

How to make a video viral and leave the impact on your audience
I started writing about video marketing. I wrote some stuff but it was more of gyan articles. I was writing stuff which people already knew.
A quick research suggested that a lot has been written about video marketing for Americans and Europeans but not in the Indian context.
I was excited with the insight (..read secret information) and decided to write my articles with Indian tadka. But again, I was disappointed with the results. The reason I suspected is that people do not like to read about video marketing unless they are specifically looking for it.
Content that worked for me
I thought of writing content on topics that people are looking for. I wrote a couple of article on my entrepreneurial journey, my story of starting up stagephod, and why startup founders should not listen to everyone's advice.
I was able to connect with the startup founders. Then I shared article on simplifying video making process for startups that fetched us 45 video orders. I wrote articles from my own experience and able to help a lot of startups. You can learn how stagephod acquired 100+ clients without spending any money on the marketing.
I also found my co-founder through expressing my honest thoughts via a blog post. All these articles gave us much desired traffic and traction. We became first choice for the startups looking out for honest dealing and transparent pricing. Currently we have 150+ clients and also created a TV commercial for MySmartPrice.
So what type of content generally works in India?
When a certain type of content worked for me, I did some research on what kind of content is working for others.
Creating content around people (target market)

Incorporating bollywood, cricket, politics angle with your service/ product

Sharing your learning/experience

Sharing insightful content around your product/ service/ industry which are useful for your audience

Curate interesting content keeping your target audience in mind
Indian startups and content creators who mastered the content in recent times
Harsh Agrawal (Founder of ShoutMeLoud)
Harsh Agrawal is the founder of shoutmeloud, a blog scientist. He writes in-depth content on wordpress blogging and affiliate marketing. He knows his target audience very well and writes to the point topics those are being loved by his readers. He started blogging in 2008 and now shares his blogging knowledge with the entire world.
He openly writes about his income from blogging. Checkout Harsh's Income Report.
Shradha Sharma (Founder of YourStory)
Shradha is one of most respected names in Indian startup media. She started YourStory in 2008 because she believed that every story is unique and every story matters. YourStory has written stories of more than 15,000 entrepreneurs. Today, YourStory is number one choice for startups to get featured and share their success/failure story.
Shradha built a successful business over content platform which has been funded by legend Ratan Tata.
Deepak is a Bangalore based digital marketing consultant and blogger. Deepak started his first blog in 2008 about bikes and experimented a lot with content marketing. Deepak's marketing blog is widely read about marketing advice. He has worked with big brands like Practo, Ziwame and Homeshop18 to help in digital content.  
Sorav is an entrepreneur, digital marketing consultant and founder of echoVME. He has attracted a lot of traffic on his website through his trainings on content marketing. He has established himself as renowned digital marketer and built a profitable business. He has also written a book 'Social Media for Business' which looks like a part of his content marketing strategy.
Waqar Azmi, Founder – SutraHR
SutraHR is one of the biggest bootstrapped startup stories of present times. Their target audience is startups and corporates so they write content related to entrepreneurship and the job scenario in India. Their most liked articles are Top 100 startups to watch in 2016 and Flipkart's new office video.
They used a growth hack that you have to like or share the article in order to see the full content. Whether it's right or wrong is always debatable but it definitely gave them results.
Pardeep is one of the most followed writers in India currently when it comes to topics like startups, entrepreneurship, failures and productivity. He writes directly from his heart and share the success and failure of his startups. If you observe his writing closely, you will find that he shares a lot of insights with brutal honesty.
He has written lots of awesome articles which got published on startup media like YourStory, NextBigWhat, Inc42. Pardeep is head of content marketing at healthcare startup AddoDoc.
Aashish Chopra is an award winning viral video marketer, having made and marketed videos with millions of shares and gazillion views, with one becoming Asia's most shared branded Facebook post (Campaign Asia) and other getting 40 million views in a week. He also won the Content Marketer of the year in February 2016. He is passionate about content and believes that in the times of declining attention spans and chaotic news-feeds, creativity is the differentiator. He heads content marketing at ixigo. From ideation to execution he has been instrumental in making video marketing a growth hack for ixigo. From driving app installs, to skyrocketing reach with videos. "In today's fast evolving digital landscape, social media strategy for any brand revolves around remarkable content. Content must be compelling and share-worthy, period. Every brand today is turning into a media company." he affirms. Before diving into video marketing, Aashish was active in visual content marketing, with several Infographics going viral on Slideshare. He lives in Gurgaon, and is dealing with the everyday challenges of having a cat
Conclusion
All the above people do not have any profession training or degree in creating content but their content is liked by thousands of people. I think, the reason why people like their content is because it was created intuitively. So the biggest takeaway is to understand your target audience and write content to solve their problems.